Tide Turns Against Radical Left - Foul-Mouth MAGA Hat Snatcher May Face Felony Charges, Trump Affirms Religious Liberty, FBI Warns Of Black Extremists GroupsBy Susan Duclos - All News PipeLine
A number of recent seemingly unrelated events have come to my attention which shows that the tide is turning against radical leftists across America that for too long have been allowed to violate the rights of others.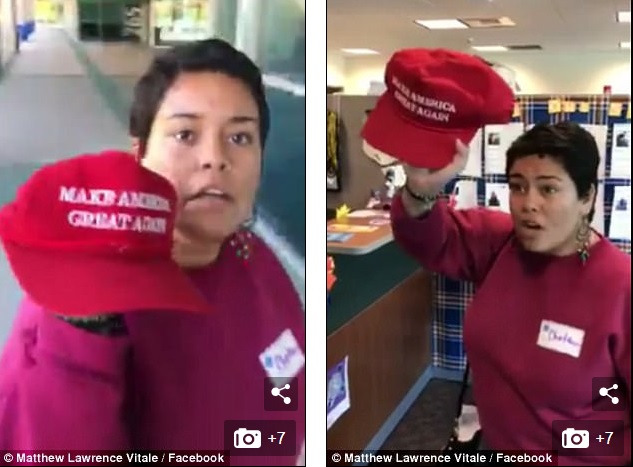 EXAMPLE #1 - FOUL-MOUTHED MAGA HAT SNATCHER MAY FACE FEMONY ROBBERY CHARGES
As many might remember
ANP recently reported on a foul-mouthed college snowflake at University of California
, Edith Macias, who ripped a Make America Great Again hat off of another student, Matthew Vitale's head, then proceeded to rant and rave at him and school workers about how offended she was in a curse-filled tirade over his right to wear the hat.
Originally Mr. Vitale was going to just let it go, but then
he was told by campus police that her actions, with the video as proof of those actions, show she violated California law
, specifically California's robbery laws:
Penal Code 211 PC
, defines the crime of robbery as taking personal property from someone else's person or immediate presence, against the victim's will, through the use of force or fear. PC 211 robbery is always a felony in California law. Penalties range from probation to five years in prison.
Vitale has stated he does intend to press charges, maintaining that he is not doing so out of revenge, but because "
behavior like this is not tolerated in this country.
"
He also highlights his belief that "if she had been wearing a Malcom X cap or a pro-abortion cap, and I had snatched it off her head and ran down to student life and turned her in and demanded that she be kept from wearing that hat, I very firmly believe that I would be sitting in jail right now."
This is good news on two fronts: 1) The fact that a campus police officer was the one to inform Vitale that Macias' actions were against California law, tells us that college police are sick and tired of seeing this type of behavior go unpunished, and; 2) Conservatives, on and off college campuses, have 'turned the other cheek' too often and incidents like the one shown below, continue to increase in frequency, so actually holding this woman accountable by pressing charges, is a statement in and of itself that conservatives are done with standing down and are prepared to fight back... legally.
For those that didn't see the viral video, see below - LANGUAGE WARNING: